Irish Hotels Federation endorse Think Backup!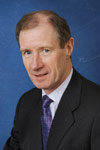 John Power, Chief Exectutive of the Irish Hotels Federation said:
"Think Networks have been working with us since March 2009.
We had a major problem with our system and they came recommended to us. I can honestly say that Clive Jones and his team worked round the clock and got us back in operation very quickly.
Based on my experience I had no hesitation on taking on Think Networks to handle our IT support and off-site back up of our files and systems.
The service which we continue to get is excellent and I have no hesitation in recommending them to anybody."